A Peaceful Retreat Center
Lighthouse Center Oregon (LCO) is a physical, mental and spiritual well-being retreat center nestled in the mountains overlooking the scenic Umpqua River Valley. Visitors from all over the world enjoy the peaceful environment, surrounded by nature, wildlife, fruit trees, wild flowers and organic gardens. This quiet setting in nature provides a supportive environment for retreats. Guests come individually, or in groups, staying for a few days, weeks, or longer.
We offer programs that focus on the teachings of Sant Baljit Singh Ji, like unity in diversity, service to humanity, compassion for all, a natural lifestyle, and devotion to the omnipresent God pervading all. Retreatants focus on these spiritual teachings alongside opportunities to participate in various charitable and service oriented activities, spend time in beautiful nature and learn new skills such as wholesome vegetarian cooking, organic gardening, landscaping, housekeeping and woodworking. Special activities and workshops are offered during the summers and holidays.
Lighthouse Center Oregon regularly partners with other charitable organizations, volunteering time and resources to help those in need. In our charity projects section below, we are pleased to share some stories of these wonderful collaborations. Since 2009, the center has operated Lighthouse Center Bakery and Café. Lighthouse Center Bakery is offering the facilities to Lighthouse Center Oregon volunteers to work with the community in a spirit of caring and sharing to donate bread, soup, food and supplies to people in need during these unprecedented times.
Keep doing good for humanity.
Keep loving humanity.
Keep serving humanity.
Be one with humanity.
Be of some use to humanity.
CHARITY PROJECTS
Actions that make a difference 
When we serve humanity, we serve anyone and everyone.
Sant Baljit Singh Ji
Our charity and community service projects strive to serve others with kindness and compassion. We share food and other necessities with those in need and reach out to those who are suffering. Sometimes the simplicity of good wishes and a flower or a basket of food can gladden the heart of someone who is in pain.
September 2023: After severe thunderstorms triggered wildfires in the region in late August, more than a thousand firefighters were called to the area. Lighthouse Center Bakery (LCB) extended its opening hours to support the firefighters working hard to fight the wildfires in the area. From August 27, 2023, LCB opened daily from 11am to 7pm for the next two weeks. Lighthouse Center Oregon volunteers helped at LCB, serving free food and refreshments to the firefighters and all involved.
Two weeks later, the wildfires were brought under control and the emergency subsided. As things returned to normal, LCB went back to its regular days and hours. Acknowledging the firefighters' commitment to protecting the community and the region, LCO volunteers and LCB have been at the service of the firefighters, welcoming them as guests. LCB will continue to serve free food and refreshments to the firefighters and all involved who are working hard to contain these wildfires. Read our blog post for the details: Serving firefighters battling wildfires in Umpqua.
Lighthouse Center Oregon served up Christmas cheer at St. Francis Community Kitchen with a special meal and gift bags for the low income and homeless.
Here is a sampling of our activities and events. We hope you enjoy browsing through our stories!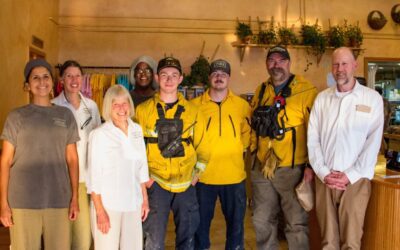 LCO, September 2023 Wildfire season in the Pacific Northwest often lasts from May until October. This year, a wet spring and large snowpack delayed the fire season and authorities predicted significant above-average fire potential in August and September. Then, on...
read more
Life is all about caring and sharing. Love has to be there, and then you care. And when you care, then you share.
We must come forward to serve everyone. If everyone felt ready and willing to serve all others, then everyone would serve everyone. Everyone would be taken care of. No one would be deprived of anything, because when you serve, you give everything with love and affection; you do not hold anything back. If no one held anything back, then there would be no shortage of anything. Everyone would then enjoy because everything on this earth was created for our use.